During our last few days in Japan, I can't help but reminisce about the many amazing things that had happened to me. For one, there was our museum hopping, not bar hopping, mind you.


OSAKA
I've always believed that visiting museums is the best way to connect with a country's past and future. Japan's museums clearly exhibited these elements to the full.
National Museum of Ethnology in Osaka
This particular photo was taken at the National Museum of Ethnology in Osaka which showcased different types of folk art and native costumes.
National Museum of Ethnology in Osaka
But when we saw the
Sarao Jeepney
on permanent display in the Southeast Asia wing of the museum, we were all beyond ecstatic!


Our Japanese counterpart Maya, as seen below, helped us roam around Osaka to practice our Nihonggo. Funny thing was, we ended up teaching her how to speak in English! She was one amazing lady, that much I can tell.
What was more amazing was the fact that in Osaka, even the pigeons fall in line!
TOKYO
This particular snapshot taken
at the
Edo-Tokyo Museum
featured life-sized mannequins demonstrating the process of childbirth in old Japan.
Here's a full shot of how the commoners quarters looked like in Old Japan. Here, you see the process of childbirth that usually transpired in
"longhouses," referring to several rooms joined together to form one long building. Normally, the whole family would live together in this small room.
I also can't help but smile when I recalled our visit to the NHK Studio Park in Shibuya-ku.
NHK Studio Park
Inside the studio, there was this very animated tour guide who tried her very best to explain
NHK's
history and live programming to both tourists and locals.
NHK Studio Park
I used these gadgets to read from the teleprompter in front of me.
NHK Studio Park
I was quite nervous to be on the spotlight, but was eventually very thankful because I got to do this particular demo bit for posterity.




Any trip won't be complete without pictures and good food! Gosh, I miss that bento more than ever!
NHK Studio Park
Our
Tokyo escapade
was made even more memorable with our visit to
Tokyo Disneyland!
When my would-be-hubby first visited it, I wished and prayed that somehow, I could see it too. So when I finally got my chance, I didn't waste anytime taking my first snapshot.


Can you guess what this is? Well, this was how the Disney float looked like up-close during the Night parade.
During the
Disney Day Parade
, the float looked a little different for obvious reasons.
When we took the Mark Twain Riverboat ride, we were so astonished to see life-sized mannequins!

This ride right here, the Wild River, eluded me during our visit. Actually, we decided to skip it because of the loooong line.


Instead of waiting in line, we dashed to Minnie's House in Toontown. It would have seemed less exciting but something tugged at my inner child's heartstrings. The house was so adorable! No, this was not taken at Disneyland.


EHIME PREFECTURE


Rather it was a shot from the Children's Park in Ehime. These characters, though, will give Mickey and Minnie a run for their money!
Ehime Children's Park


Another snapshot, this time at the Ehime Children's Park.
Top: Ehime Children's Park
Bottom: Briefing at the National Education Hall in Tokyo
I truly enjoyed our visit to

Ehime University.

We even had lunch at their cafeteria. The students took quite an interest on us because we looked and sounded kinda different.
Top: Ehime University

Bottom: Nankai Broadcasting Corporation
One of the highlights in our trip was when we were interviewed in one of the radio stations at the
Nankai Broadcasting Corporation
in Matsuyama City. I had a blast. I felt like a movie star because my answers were interpreted every now and then.
JICA made sure that we were taught the art of calligraphy. I felt like an ancient scribe writing a dead king's legacy or something.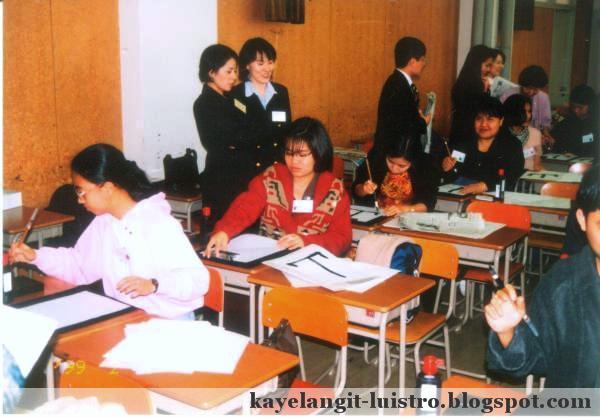 Japanese Calligraphy Workshop in Tokyo

As it turned out, I did end up chronicling my Japan adventures 11 years too late. Not in papyrus; but, in a blog. Any which way, I'm glad I finally wrote about it. It only shows that when you dare dream the impossible dream, the Lord might just allow it to come true–in His own way, in His own time, to fulfill His purposes.
Travel Directory:
National Museum of Ethnology (Osaka)
Website
Edo-Tokyo Museum
Website
NHK Studio Park (Tokyo)
Website
Tokyo Disneyland
Website
Ehime Children's Park
Website
Ehime University
Website
Nankai Broadcasting Corporation
Website